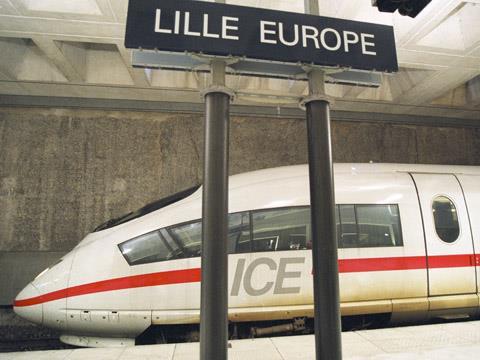 FRANCE: SNCF's Gares et Connexions business unit has announced plans to double the capacity of the Eurostar terminal at Lille Europe station in a seven-month project valued at €3m.
Work to expand both the waiting areas and security zone of the 'Transmanche terminal' will begin in March for completion by November. SNCF hopes to increase the terminal's passenger throughput from 275 to 550 passengers/h by increasing the area of the departure lounge from 600 m² to 720 m², and that of the security checkpoint from 362 m² to 560 m².
As the United Kingdom is not a signatory to the EU's Schengen Agreement, which has removed frontier checks between many member states, passengers boarding Eurostar services must currently undergo passport and security procedures prior to arrival in Britain. The operator's three main hubs in continental Europe — Paris-Nord, Brussels Midi and Lille Europe — are all staffed by the UK Border Force, but the British government has to date appeared reluctant to expand such arrangements to support Eurostar's plans to serve more destinations in Europe with direct trains from London.
Last summer, a trial service operated on several weekends between London St Pancras and Aix-en-Provence. Passengers on the return leg were required to disembark from the train at Lille to go through customs formalities, adding around 70 min to the journey time.
'These improvements are necessary and will contribute to making Lille Europe a veritable European rail hub', explained Mikaël Lemarchand, Station Director at Eurostar International. 'More capacity and a better experience are a sine qua non for meeting our future objectives. Eurostar's ambition is to offer its customers journey opportunities beyond its usual routes.'