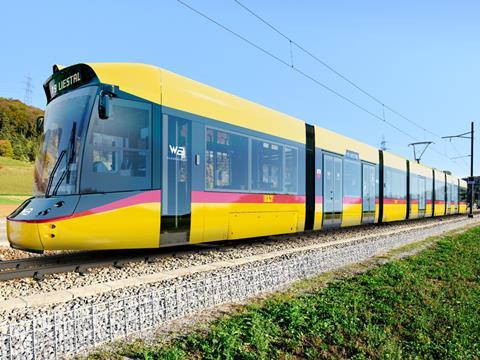 SWITZERLAND: Baselland Transport and Stadler Rail signed a contract on April 26 for the supply of 10 Tramlink Be 6/8 vehicles to operate on the Waldenburgerbahn. The contract signing follows BLT's approval on April 17 of a SFr54m credit line to support the purchase.
The vehicles have been ordered as part of a project to modernise the 13·1 km single-track line from Liestal to Waldenburg, which includes regauging from 750 mm to metre gauge. On completion the line will become BLT Line 19.
Stadler was selected as preferred bidder in October. The order is being placed under a joint procurement with Aargau Verkehr, which is to receive eight Tramlink vehicles for the Limmattalbahn project in Zürich. BLT said it was saving SFr3·3m through the joint procurement.
Stadler is to deliver a pre-series vehicle from its Valencia factory by October 1 2021 to Bremgarten for testing by Aargau Verkehr. The remaining nine are to be tested on the 2·5 km test track at the factory, ahead to delivery to Waldenburg from July 2022. They are due to enter service from December 11 2022.
The 100% low-floor seven-section bidirectional vehicles, which would run in pairs during peak times, are to replace the current Waldenburgerbahn fleet, which dates from 1985-93.