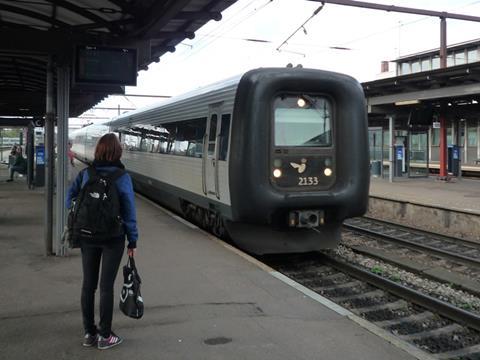 DENMARK: The list of infrastructure projects to be implemented under the DKr28·5bn Togfonden DK package of investment in the rail network was formally agreed by the government and opposition parties during January.
The work is to be funded by taxes on North Sea hydrocarbon extraction. It will see the all the country's main routes electrified, and upgrading to provide 1 h journey times on the Esbjerg – Odense, Aalborg – Aarhus, Aarhus – Odense and Odense – København routes to provide a regular timetable between the main cities. A study will be undertaken for a new Aarhus – Galten – Silkeborg line by 2024.
'With the new infrastructure and higher speeds the railway will be much more attractive to passengers', said DSB Chief Executive Jesper Lok. 'We are taking a major step towards the vision of doubling rail traffic by 2030.
Key Togfonden projects

DKr bn
Works to provide 1 h journey times between cities
14·8
New 35 km Vestfyn line west of Odense
4·9
Vejle Fjord bridge
4·3
New Hovedgård – Aarhus line
3·4
Upgrading Fredericia – Vejle – Hovedgård and around Aarhus
1·0
Upgrading Aarhus – Hobro
0·9
Platform upgrading
0·3
Electrification
Fredericia – Aalborg 2021-23
Aalborg – Frederikshavn 2023-25
Vejle – Struer 2024-26
Roskilde – Kalundborg 2022-24
8·7
Other projects
Upgrades to regional routes in Jylland and Sjælland
1·24
New Vejle – Billund line, via Billund Airport and Legoland
0·75
Capacity increases in north Jylland
0·11
Station and grade-separated junction at Ny Ellebjerg
0·51
Port of Hirtshals rail freight terminal
0·02
Car parking to encourage modal shift
0·20