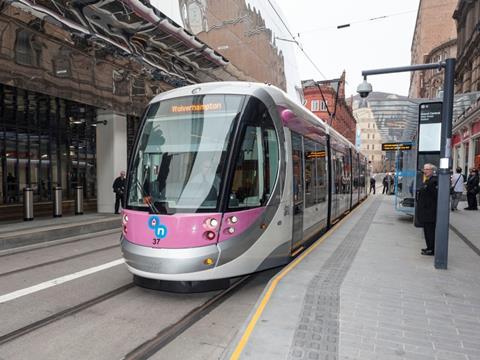 UK: Transport for West Midlands is to take over the day-to-day operations of the Midland Metro light rail line when the current contract held by National Express ends in October 2018.
'Metro is embarking on an unprecedented period of expansion and we believe bringing services in-house will provide the extra flexibility and adaptability needed to meet this exciting new chapter while generating millions of pounds for the benefit of passengers and taxpayers', said Councillor Roger Lawrence, West Midlands Combined Authority's Lead for Transport, on March 22.
The Midland Metro network is expected to triple in size over the next decade, with passenger numbers forecast to increase from 6·6 million in 2016 to more than 30 million/year. TfWM said it expects this to 'generate profits of around £50m over the first 11 years' which WMCA would be able to channel back into the network.
TfWM Managing Director Laura Shoaf said outsourcing operations during this expansion programme would make it 'extremely difficult to accurately define the scope of services required from the operator', and could 'lead to continuous and expensive commercial negotiations to agree the price for the delivery of those network changes.'
National Express staff will be transferred over to a new subsidiary company, Midland Metro Ltd, which will be wholly owned by WMCA. Colin Saward, General Manager of National Express Midlands Metro, said it was 'disappointing' that it would not have the chance to win a new contract, however 'we appreciate TfWM's reasons for taking services back in-house when the network is about to change so much.'
On March 17 the WMCA board authorised TfWM and the Midland Metro Alliance which is responsible for network expansion to apply for a Transport & Works Act Order which would give legal powers to continue the Centenary Square extension to Five Ways and Edgbaston by 2021. Funding of £59m towards the cost was also confirmed.