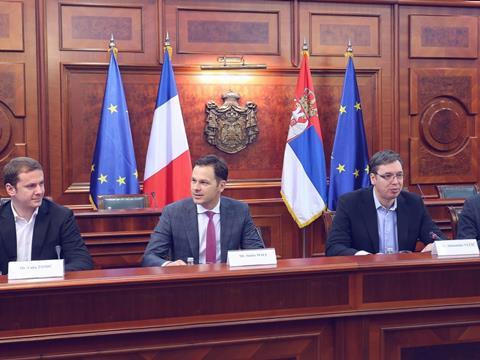 SERBIA: The city of Beograd published a transport master plan on November 17, which includes proposals for a two-line metro network. The presentation was attended by Prime Minister Aleksandar Vučić, Mayor Siniša Mali and French Ambassador Christine Moro, as well as representatives from Alstom and Egis.
One line would run southwest-northeast from Makiš to Pančevo Bridge, with an eastern extension to Mirijevo planned in the longer term. The second line would link Ustanička to Zemun on a southeast-northwest alignment. Both routes would be partly underground.
A feasibility study is to be carried out, and it is envisaged that construction could begin in 2018, with opening in 2027-28. The estimated cost is €2bn.
These are not the first plans for a metro in the city. In 2001 a memorandum of understanding was signed for Alstom to plan a new transport network. In 2002 and 2005 Beograd received French financing for a metro study carried out by Egis. In 2011 a preliminary construction contract was signed, and in 2014 an MoU was signed between the city and French banks for project financing.