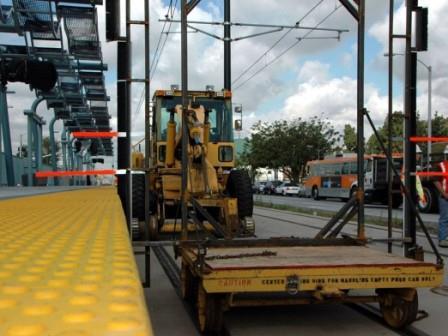 USA: Clearance testing along the initial section of the Expo Line in Los Angeles began on March 22 using a jig mounted on rail wheels. Within the next few weeks, a light rail vehicle will be towed along the tracks, followed by trains running under their own power. The first section of Phase 1 is scheduled to open late this year.

A final vote approving construction of the second phase of the Expo Line from Culver City to Santa Monica was passed by the Exposition Metro Line Construction Authority on March 18.

As expected, a design-build contract has been awarded to the Skanska/Rados Expo 2 joint venture. Capped at $541·7m, this ensures that work will begin this year for completion in 2015.

Also passed was a $1·5bn funding agreement between the project's governing authority and the Los Angeles County Metropolitan Transportation Authority covering the full cost of the extension and detailing how it will be financed; most of the money will come from a transport sales tax increase approved by Los Angeles County voters in November 2008.

However, the Expo Authority's board made one major change to the plan outlined in the Final Environmental Impact Report. It has insisted on a grade separation and elevated station at Sepulveda Boulevard, replacing the surface crossing originally planned for one of the busiest streets in LA.