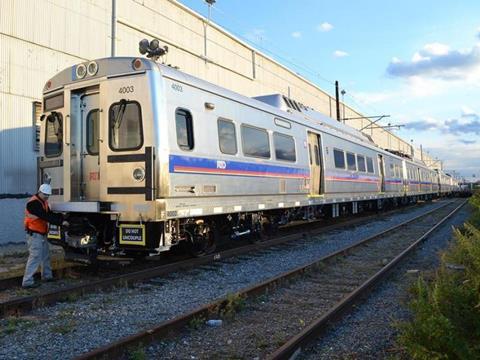 USA: The first four 25 kV AC commuter cars for Denver's FasTracks programme left Hyundai Rotem's assembly plant in Philadelphia on October 31. The steel bodyshells were manufactured in South Korea before being shipped to Philadelphia for final assembly.
Denver Regional Transportation District has ordered 66 cars to enter service in 2016 on four lines being developed as part of the FasTracks programme. These are the East Rail Line to Denver International Airport, the Northwest Rail Line to Westminster, the Gold Line to Arvada/Wheat Ridge and the North Metro Rail Line to Thornton. They will be maintained at a depot in Globeville.
Each car is 26 m long, 3 200 mm wide and 3·8 m high. There are two wheelchair spaces per car, as well as luggage and bicycle racks, and they will offer level boarding. Maximum speed will be around 125 km/h.