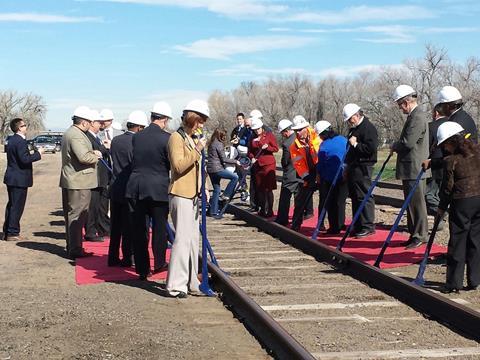 USA: A groundbreaking ceremony for the North Metro commuter rail line in Denver was held on March 20 at the future site of 124th Avenue/Eastlake station in Thornton. Opening of the 20 km first phase is scheduled for 2018.
The initial section would follow BNSF and former Union Pacific rights-of-way from Denver Union station to 124th Avenue with five intermediate stations. A 9 km extension to 162nd Avenue/Colorado Highway 7 with one intermediate station is to be built 'as funds become available'. Current plans envisage overhead electrification to allow the use of EMUs.
Regional Rail Partners is designing and building the first phase. The consortium comprises Graham Contracting, Balfour Beatty Rail, Stantec Consulting, Parsons Brinkerhoff, Zann & Associates, Communications Connections Consulting, Pinyon Environmental and Iron Horse Architects.
The construction timeline was shortened after Graham Contracting submitted an unsolicited proposal with technical merit in February 2013, allowing a request for proposals to be brought forward.
The project forms part of Denver Regional Transportation District's 190 km FasTracks expansion programme for light rail and commuter rail in the Denver area.
RTD General Manager and CEO Phil Washington noted that 2014 marks the 20th anniversary of commuter rail in Denver and the 10th anniversary of voters' approval of FasTracks. 'It's remarkable to see how far we've come. More than a year ago, this line was not set to be completed for many years. Now, because of innovative financing, working with our stakeholders and reaching out to the private sector, we are here today breaking ground on the first phase of the North Metro Rail Line.'