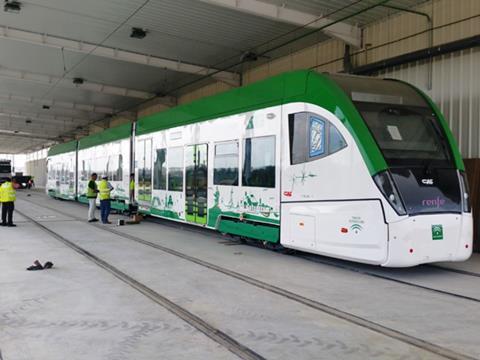 SPAIN: The Andalucía regional government announced on July 7 that the first of seven vehicles being supplied by CAF for the Cádiz tram-train project had arrived at the new rolling stock maintenance facility in Chiclana de la Frontera.
Following delivery by road from the CAF Santana plant in Linares, the three-section LRV is now being reassembled with a view to commencing dynamic testing between Chiclana and San Fernando in September. Technical assistance for the trials is being provided by 2 IT and the operator of the Tenerife light rail network.
Each 1 668 mm gauge LRV is 38 m long and 2∙6 m wide. A further two vehicles are due to be delivered from Linares during July, followed by the two vehicles currently undergoing acceptance trials on the national network between Irún and Vitoria.
As well as using the 14 km of new tram route between Chiclana and San Fernando, tram-train operations will involve running over 10 km of ADIF infrastructure to reach Cádiz. Revenue operations are expected start during the second quarter of 2017, serving a total of 21 stops and a population of 234 000.