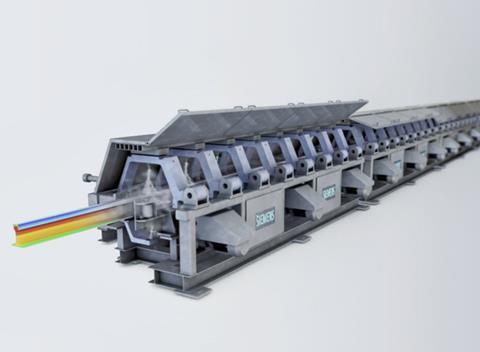 CHINA: A thermal rail hardening process developed by Siemens Metals Technologies and Centro Sviluppo Materiali is to be brought into commercial use for the first time at the Baotou Iron & Steel rail mill in Inner Mongolia.
The Injector Dual-Phase Rail Hardening process produces rails with improved contact fatigue and wear resistance. Various cooling strategies for different grades of steel can be simulated before production, reducing run-up times.
Siemens is to supply the induction furnace, flexible quenching line and closed-loop process automation systems, and will support the installation and commissioning which is scheduled for early 2014.
The Baotou mill is one of three locations where rails are produced in China, and has a long product rolling capacity of 2·1 million tonnes/year. Idrha+ will be installed on a rail rolling line which has an annual capacity of 0·4 million tonnes of rails up to 104 m long.