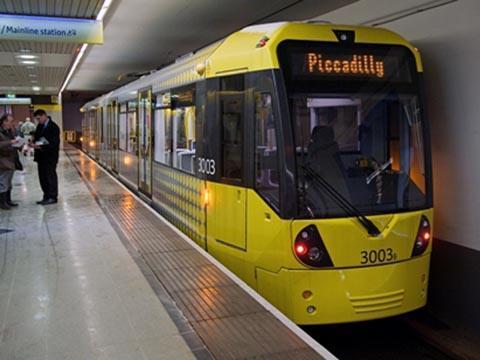 UK: Revenue service on the 2·7 km Metrolink branch from Trafford Bar to St Werburgh's Road in Chorlton began on July 7.

'It is both an historic occasion and a sign of the exciting future in store for the network, as we continue our £1·4 billion expansion — the single biggest investment in public transport outside London', said Councillor Andrew Fender, Chair of the Transport for Greater Manchester Committee.

However, the celebrations were somewhat dampened when cable theft overnight led to the suspension of services to Chorlton on the morning of July 8.

The inauguration came after several days of trial running with empty LRVs to test the reliability of signalling equipment. Contractor Thales is in the process of resignalling the Metrolink network to allow line-of-sight driving with GPS vehicle location. The original route from Bury through Manchester city centre to Altrincham, which opened in 1992, and the Eccles branch opened in 2000, use conventional lineside signalling.

The St Werburgh's Road extension is the first of a £1·4bn package that will see trams reach East Didsbury, Manchester Airport, Ashton-under-Lyne, Oldham and Rochdale by 2014 under an ambitious programme that was first put forward in the late 1980s.

Transport for Greater Manchester expects to open the initial section of the line to Oldham and Rochdale as far as Central Park by the end of the year; like the Bury – Altrincham line, most of this route has been converted from main line standards.