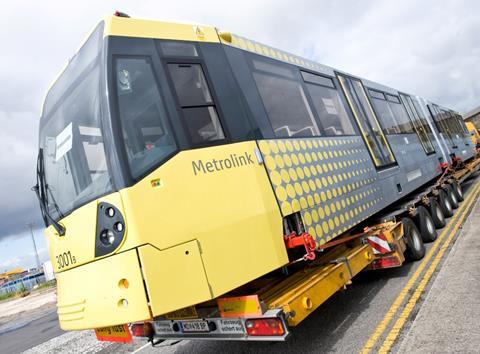 UK: The first Bombardier M5000 Flexity Swift light rail vehicle for Manchester Metrolink arrived at Queens Road depot at around 06.00 on July 13. It had been transported from Bombardier's Wien factory by road to Rotterdam, then by sea to Hull.
The LRV is the first of 40 cars ordered by Greater Manchester Passenger Transport Executive to alleviate overcrowding on the existing Metrolink network and operate services on a number of extensions that are now under construction. It is expected that the first car will enter traffic towards the end of the year following a period of commissioning and testing.
Based on the K5000 design used in Köln, the 28?4 m long high-floor cars have Vossloh Kiepe electrical equipment, but unlike Metrolink's existing fleet of Ansaldo and Firema cars, they will not have retractable steps. As part of a major infrastructure renewal project, the last two low-height platforms in Manchester city centre will be raised to provide an entirely high-platform network. Although much of the Metrolink network is made up of converted suburban railway lines, the M5000 cars will undertake extensive street running on the lines to Eccles and Droylsden.