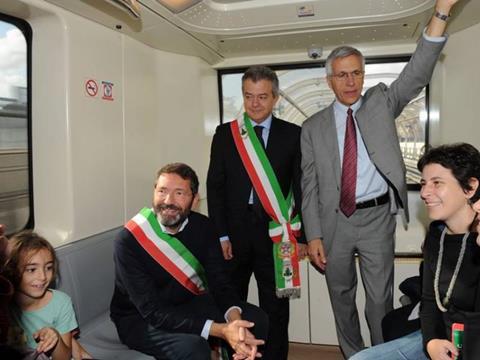 ITALY: The first section of metro Line C in Roma opened on November 9. This links Parco di Centocelle with Monte Compatri-Pantano to the east of the city, making it the first metro line to reach beyond the city boundary. The alignment partly follows a section of the former 950 mm gauge Roma – Fiuggi light railway.
The initial section is 12·5 km, including 4·3 km underground. There are 15 stations. The Metro C SpA consortium of Astaldi, Vianini Lavori, Ansaldo Trasporti Sistemi Ferroviari, Co-operativa Muratori e Braccianti di Carpi, and Consorzio Cooperative Costruzioni has built and operates the line.
A second phase, due to open in 2015-16, would extend the line west to San Giovanni in the city centre, where interchange would be provided with metro Line A. The third phase would bring the line to Colosseo on Line B, with an intermediate station at Amba Aradam, in 2020. When the northern extension is completed, Line C will be 25·5 km long, of which 17·6 km will be underground.
AnsaldoBreda has supplied a fleet of 30 six-car automated trainsets derived from those in service on the København metro. Each 107 m long trainset has a capacity of 1 200 passengers and a maximum speed of 90 km/h.
When complete, Line C is expected to carry up to 24 000 passengers/h in each direction at peak times, with trains running at 3 min headways.