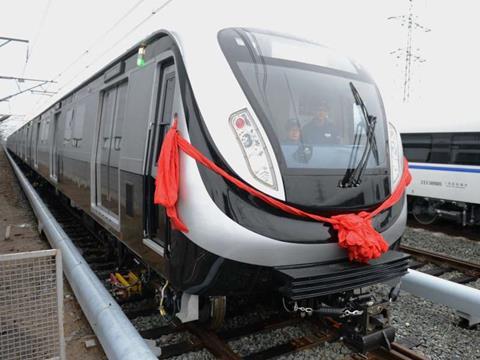 BRAZIL: The first trainset for Rio metro Line 4 rolled off the production line at the CNR Changchun Railway Vehicles factory in China on September 29. The Type A trainset is due to arrive in Rio in December.
The six-car trainset has capacity for 2 240 passengers. The stainless steel body is intended to prevent rust in the humid climate, and powerful air-conditioning would keep the interior temperature at 20°C to 23°C even when the external temperature reaches 50°C. The air-conditioning is designed to shut off automatically if smoke is detected to stop smoke and potentially dangerous gases from entering the passenger compartment.
The train has a maximum speed of 100 km/h and is fitted with overspeed protection.
The 16 km Line 4 will run from Jardim Oceânico in Barra da Tijuca to Nossa Senhora da Paz in Ipanema. It will serve the Olympic Village, and athletes and spectators are expected to take the metro to events at the 2016 Olympic Games. According to CNR, the front of the train resembles a smiling face, to show that Brazil welcomes its visitors with a smile. The windows are made from plastic rather than glass, to prevent breakage by less restrained spectators after certain sporting events.
Deliveries of the 15 trainsets are due to be completed by June 2015, in time for the opening of the line in the first half of 2016.