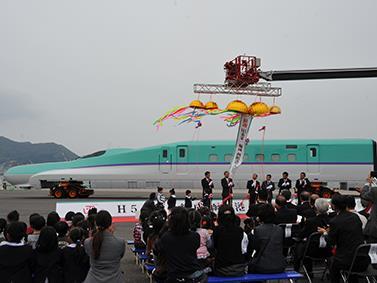 JAPAN: The first Series H5 trainset for the Hokkaido Shinkansen was delivered to the island on October 13. A welcoming ceremony was held at Haldane Harbour before the vehicles were transferred by road to JR Hokkaido's Nanae depot.
Built by Kawasaki Heavy Industries in Kobe, the trainset had been shipped via the Sea of Japan because of prevailing typhoon conditions along the Pacific coast.
Intended to operate through services from Hakodate to Tokyo when the first section of the Hokkaido Shinkansen opens in December 2016, the four 10-car Series H5 units ordered earlier this year are clones of the JR East Series E5. Each will be able to carry up to 731 passengers: 18 GranClass, 55 Green Car and 658 standard.
Fitted with full active suspensions, the Series H5 will be able to operate at up to 320 km/h on the Tohoku Shinkansen, and run in multiple with Series E5, E6 and E3 units. Maximum speed on the Hokkaido Shinkansen will be 260 km/h, but the trains will be limited to 140 km/h on the dual-gauge tracks through the Seikan Tunnel.
Tracklaying is due to be completed next month on the 148·9 km first phase of the line, from Shin-Aomori to Hakodate, which was authorised for construction in April 2005. This will serve three stations, at Oku-Tsugaru-Imabetsu in northern Honshu plus Kikonai and Shin-Hakodate-Hokuto in southern Hokkaido.
Work is expected to start next year on the 211 km extension to Sapporo, which was approved for construction by the government on June 29. Whereas JR Hokkaido's principal trains between Hakodate and Sapporo currently operate via the Muroran Main Line and Chitose Line, which have gentle gradients as they follow the coast, the high speed line will parallel the Hakodate Main Line which takes a more direct route but steeply graded route through the hills. Due to be completed by 2035, it will have intermediate stations at Shin-Yakumo, Oshamanbe, Kucchian and Shin-Otaru.