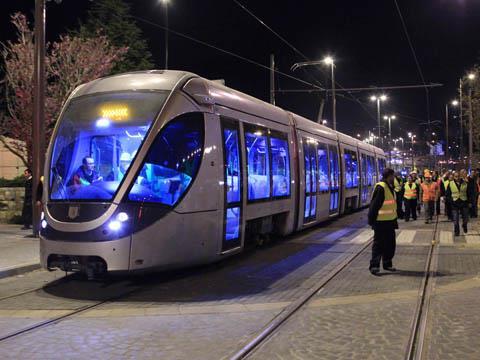 ISRAEL: A Citadis light rail vehicle made the first test run in Jerusalem on February 24, along a newly-energised 3 km section of track between the depot near French Hill and Ammunition Hill junction. The event was watched by senior officials from the municipality and light rail concessionaire CityPass, along with many local residents.

The start of test running was welcomed by the municipality's General Manager Yair Ma'ayan and CityPass General Manager Yair Nave, who described it as an 'historic moment' in the progress of the project which would bring modern transport to the citizens of Jerusalem.

Tracklaying on the 13·8 km Red Line is now complete. An Appitrack machine was used to lay 80% of the double track with the remainder installed manually. Overhead wiring is now being fitted to around 1 000 catenary masts so that the entire line can be tested.

Systems tests will be conducted on all 46 vehicles by Alstom and CityPass during the next three months, followed by verification of the line. Final tests must be conducted by the Ministry of Transport & Road Safety before the line can enter revenue service. A formal opening is currently expected in April 2011.