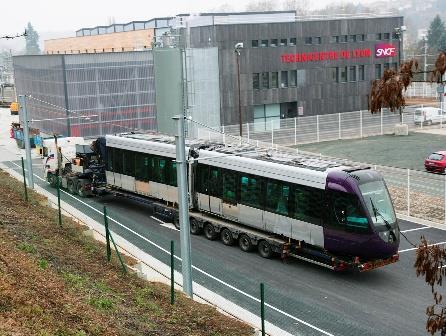 FRANCE: The first of 24 Citadis Dualis tram-trains for the TER network west of Lyon arrived at the L'Arbresle maintenance centre on February 18, having left Alstom's assembly plant in Valenciennes two days earlier.

Two more vehicles will be delivered to SNCF in Lyon during the next few weeks. The three trains will then undergo trials to test current intake and measure electromagnetic emissions. The first vehicles are expected to enter service this year on the newly-electrified route from Lyon Saint-Paul to Sain-Bel.

In May 2007, SNCF ordered 31 Alstom Citadis Dualis tram-trains, seven for the Pays de la Loire region and 24 for Rhône-Alpes, under a €650m framework agreement for 200 vehicles. Pays de la Loire placed a conditional order for another eight trains in March 2009; options for the remaining 161 are still open.

Parts are being supplied by various Alstom sites; the bogies are being manufactured at Le Creusot, the motors at Ornans and the traction equipment at Tarbes, while Villeurbanne and Saint-Ouen are providing on-board computer systems.