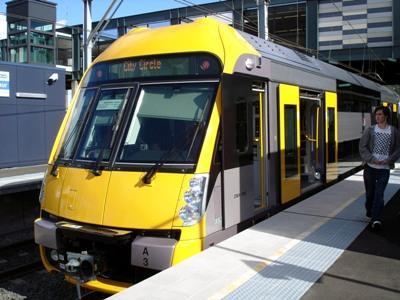 AUSTRALIA: The first Waratah double-deck EMU being supplied for Sydney's CityRail suburban network by Reliance Rail finally entered revenue service on July 1, around 18 months behind schedule. The inaugural unit was dispatched from Redfern by the Chief Executive of RailCorp Rob Mason, who said he was 'very excited' to see the trains entering service at last.
Forming 78 eight-car trains and two spare cars, the 626 vehicles are being supplied under a PPP contract valued at A$3·6bn including maintenance for 30 years; this was awarded to the Reliance Rail consortium in December 2006. Design and manufacturing are being undertaken by a joint venture of Downer EDI Rail and Hitachi, with the stainless steel bodyshells produced by CNR Changchun. Cabs, traction equipment and interiors are being installed at the Downer EDI plant in Cardiff, NSW.
The first completed vehicles were unveiled in July 2009, at which time the units were expected to enter service from April 2010 with deliveries completed by September 2013. However, problems with production, commissioning and testing have delayed the programme, and the last sets are now not expected to arrive before 2014. Eventually, the Waratahs will replace all of CityRail's remaining non-air conditioned EMUs, and account for almost half of the Sydney suburban fleet.
At the end of January Downer EDI revealed that it was taking a second provision against future production problems, bring its potential loss to A$440m. Further problems are expected in February 2013 when Reliance Rail is due to refinance an existing A$357m loan.
Having brought in a new Production Director to oversee the programme, Downer EDI said in January that it hoped to deliver its third Waratah by early June and have six EMUs in passenger service by October. RailCorp had expected to see the first units enter service in June, but this was delayed for a fortnight by a few residual acceptance issues.