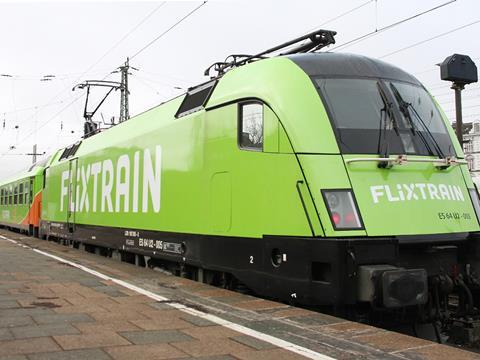 GERMANY: Open access operator FlixTrain has brought forward the introduction of additional services following higher than anticipated passenger demand. It is also introducing seat reservations and launching pop-up shops at main stations.
A second daily Stuttgart – Frankfurt – Hannover – Berlin return service will now be introduced on June 21, a month earlier than planned, the company announced on June 13. The Köln – Düsseldorf – Essen – Hamburg service will be increased to two trains each way per day from July 19.
'The response to FlixTrain has been overwhelming, with many of our initial routes regularly fully booked', said André Schwämmlein, CEO and co-founder of parent company FlixMobility. 'Owing to this demand, we are doubling our rail offering throughout Germany. Based on the initial response from customers, we expect to exceed by far our previous target of 500 000 FlixTrain passengers by the end of 2018.'
Tickets are now being sold at a FlixTrain 'pop-up' shop at Stuttgart Hauptbahnhof, with similar shops to be opened Berlin and Düsseldorf. Seat reservations costing €3·49 will also be available via the FlixTrain website and app.
Looking ahead to 2019, FlixMobility has applied for paths to run trains from Berlin to Köln and München. It also plans to integrate its rail services with its expanding long-distance bus network.