Having grown from a tech startup to an international coach company in just five years, FlixMobility has now entered the rail market. The e-commerce platform seeks to become a multimodal provider of sustainable transport, CEO & Co-Founder André Schwämmlein tells Railway Gazette International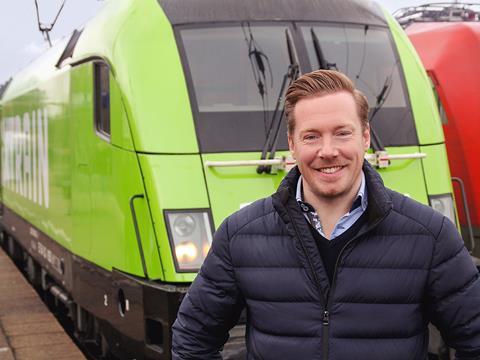 GERMANY: Various entrepreneurs and established operators have attempted to break into the German long-distance rail market, which remains dominated by the state-owned incumbent DB Fernverkehr despite the steady opening up of the regional business through competitive tendering. Names like Interconnex, Locomore and Hamburg-Köln-Express have come and gone, having operated no more than a handful of trains on one or two routes. So will FlixTrain be any different?
'We are confident that FlixTrain will be very successful', says FlixMobility's CEO & Co-Founder André Schwämmlein. 'We have received great feedback from passengers during our first months of operation.'
Unlike some of its predecessors, FlixMobility has already built a degree of scale and reach that should help it survive in the market, where DB Fernverkehr has launched an 'offensive' to try and win back business lost to the deregulated coach sector and is now carrying more passengers than ever. It has a lean and flexible multi-modal business model that should be able to adapt as the regulatory regime and market dynamics evolve following further liberalisation under the Fourth Railway Package.
Read the full article from the September 2018 issue of Railway Gazette International magazine.