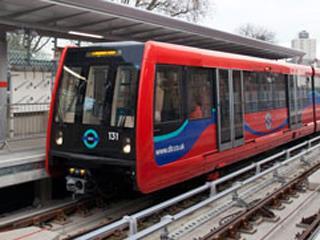 UK: Transport for London announced on April 17 that had shortlisted four bidders for a franchise to operate the Docklands Light Railway from September 14 2014.
Invitations to tender were expected to be issued 'within the next few weeks' to Stagecoach Rail Projects Ltd, a joint venture of Keolis (UK) Ltd and Amey Rail Ltd, Serco Ltd and a joint venture of The Go-Ahead Group plc and Colas Rail Ltd.
'We are pleased to further consider the bids from these companies which have passed the first stage of the rigorous process in issuing a new franchise', said DLR Acting Director Rory O'Neill. 'The DLR is already a highly successful railway but we are not complacent and wish to ensure that the service offered to Londoners continues to improve'.
Serving a total of 45 stations, the 38 km automated DLR network set a new ridership record of 100 million passengers in 2012-13, when it played a major role in the public transport arrangements for the 2012 Olympic and Paralympic Games. It is currently operated by Serco which is also responsible for maintaining the fleet of 149 driverless cars, as well as infrastructure excluding the routes to Stratford International, Lewisham and Woolwich Arsenal where separate arrangements apply.
DLR shortlist
Stagecoach Rail Projects Ltd
Keolis (UK) Ltd/Amey Rail Ltd
The Go-Ahead Group plc/Colas Rail Ltd
Serco Ltd