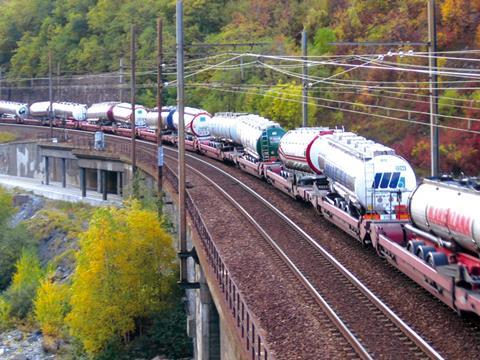 EUROPE: Rolling stock manufacturers are to be invited to submit expressions of interest in supplying wagons capable of carrying lorries on 'rail motorway' services between France and Spain, it was agreed at a meeting of a working group on March 27 bringing together the transport ministries of both countries as well as ADIF, RENFE and SNCF Réseau.
Under a two-stage process intended to sound out the market and define technical specifications as well as the optimum business model for services operating via the two main border crossings, manufacturers will initially be asked to provide details of vehicles able to carry semi-trailers, both with and without tractor units. Details of the required terminal facilities should include the equipment required to handle trains of 750 m, 850 m and 1 000 m in length.
Manufacturers will also be asked to state what proportion of the existing lorry fleet operating between France and Spain would be able to be carried by their proposed vehicle, and the anticipated timescale for obtaining approval. Other requirements include estimated operating costs.
Bidders will have three months to respond. Having considered the responses, the governments intend during the third quarter of 2017 to invite bids to operate the rail motorway services using the preferred rolling stock solution.