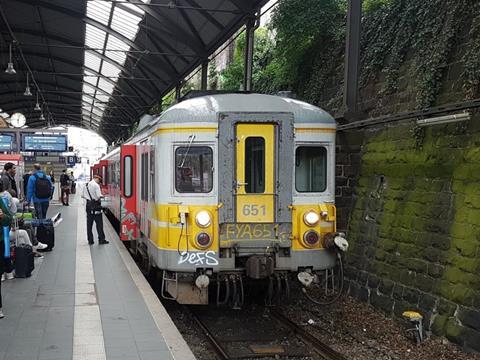 EUROPE: Amid concern from policymakers and rail advocates about the extent and quality of cross-border passenger services in Europe, SNCB is to reintroduce conventional services linking Charleroi and Mons with Maubeuge and Aulnoye in France from the December timetable change.
Direct inter-city trains had linked Paris with the Wallonie region of Belgium for many years until 1997, when these were replaced by Thalys high speed trains routed via the so-called dorsale Wallonne. However, Thalys has not served Mons, Charleroi and Namur since 2015 citing a lack of rolling stock equipped with the relevant train control and protection equipment.
At a board meeting on June 29, SNCB gave final approval to launch an initial pair of return trains per day on the Namur – Charleroi-Sud – Maubeuge and Mons – Aulnoye routes. These would connect at Maubeuge and Aulnoye with existing SNCF inter-city trains to and from Paris-Nord. These services together would offer a more flexible and direct route than travelling via Brussels or Lille, albeit with an initial journey time penalty of around 30 min for a Namur – Paris journey compared to using high speed trains.
SNCB says that it expects to introduce 'in a future phase' direct trains to and from Paris that would reduce the journey time disparity to less than 15 min.
'I am delighted that these two routes are being launched in December', said Belgian Federal Minister for Mobility François Bellot. 'By offering a cheaper and more flexible option, the trains will be able to attract a varied customer base, from the commuter to the student to the tourist, and will serve as an important driver of regional development.'