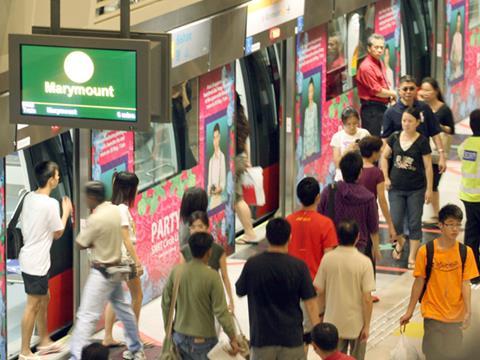 SINGAPORE: Land Transport Authority has announced the extension of its scheme offering free 'pre-peak' travel on the metro network by another year, to June 30 2016.
Passengers who end their journey at 18 designated stations in the city area before 07.45 on weekdays travel free of charge, while those exiting between 07.45 and 08.00 get a discount of up to S$0·50.
Since the introduction of free pre-peak travel in June 2013 there has been a 7% to 8% reduction in ridership during the 08.00 to 09.00 morning peak. The ratio of peak to pre-peak (07.00 to 08.00) passengers exiting from the designated stations has fallen from 2·7 and stabilised at 2·1, resulting in more evenly distributed morning ridership.
'The proportion of commuters who have shifted their travel patterns due to the free pre-peak travel scheme is significant and has stabilised after two years', said Josephine Teo, Senior Minister of State, Ministry of Finance & Ministry of Transport, on May 26. 'The scheme is an important foundation on which we can build on for our other travel demand management efforts, which include our Travel Smart Programme, Travel Smart Rewards and the new Off-Peak Pass that we are introducing in July this year. We hope that more people, who are able and willing to shift their travelling times, will benefit.'