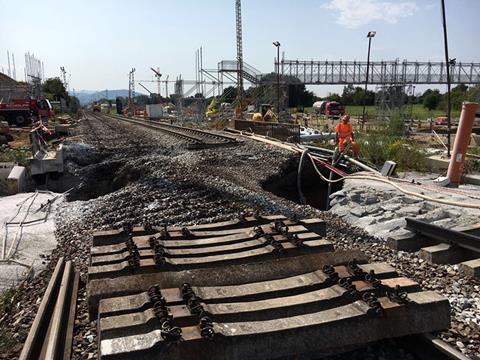 EUROPE: In a bid to avoid the widespread disruption to international rail traffic which occurred following the tunnel collapse at Rastatt in August 2017, and to provide greater resilience for commercially sensitive traffic, a coalition of rail freight operators and industry associations has put together a Contingency Management handbook for dealing with major disruption on the European rail network.
In its '30 by 2030' vision launched in December 2018, the Rail Freight Forward coalition committed to produce a handbook outlining harmonised contingency measures that could be adopted in such circumstances. The book has been developed for RFF by the ECCO group at the International Union of Railways, which brings together representatives from the Railway Advisory Group and the European Rail Freight Association representing independent operators.
The handbook describes how train operators should co-operate with each other and with infrastructure managers, aligning closely with the contingency management handbook already introduced by the infrastructure managers. It outlines scenarios for resource pooling between operators in order to best manage major incidents, and highlights the regulatory measures that would be needed to make such co-operation possible.
According to RFF, the measures would allow the rail sector to maximise use of infrastructure capacity during major disruption, noting that such incidents can jeopardise international trade flows and risk undermining customer confidence in rail.
The handbook has already been endorsed by operators including BLS Cargo, CFL Cargo, DB Cargo, Fret SNCF, Lineas, RCG and SBB Cargo, along with the ERFA board on behalf of its 30 members. The first operators have committed to start implementing the measures during 2020, while other train operators have been invited to join the collaborative effort.