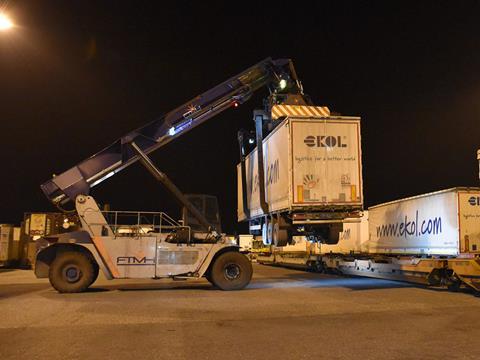 EUROPE: What is described as the first direct rail freight service between the ports of Trieste in Italy and Kiel in Germany was launched by TX Logistik on behalf of Turkish logistics company EKOL on January 25.
There are connections with shipping services to and from Scandinavia, Greece, and Turkey. Trenitalia subsidiary TX Logistik is responsible for the entire transport chain from Trieste, including connecting ferry bookings, and provides traction in partnership with fellow FS Group company Mercitalia.
The service is a flagship project for the European TEN-T corridor between the Adriatic and Baltic, according to Dr Dirk Claus, Managing Director of port operator Seehafen Kiel, and is expected to help attract traffic from road to rail.
The first northbound train was 552 m long with 16 twin-section wagons able to carry 32 semitrailers, swap bodies and container units.
There will be one train a week in each direction during the test phase which runs until Easter, leaving Trieste at 11.00 on Wednesdays and taking 26 h to cover the 1 360 km route. Kiel can be used as a logistics hub to serve northern Germany and Denmark, and a Stena Line ferry connection means freight can arrive in Göteborg at 9.15 on Friday. A second weekly service is planned by the end of the year.
'Collaboration with all participating partners and the co-ordinated schedule ensures short waiting times in the ports and reduces transit times between Turkey and Scandinavia considerably', said Jörg Nowaczyk, Intermodal division manager at TX Logistik. 'This also makes the intermodal connection interesting for freight destined for northern Germany and southern Denmark.'