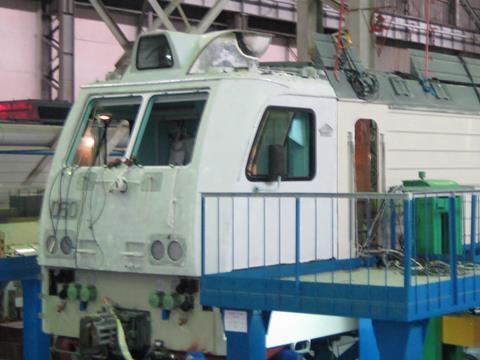 RUSSIA: Alstom and Transmashholding are jointly to develop a dual-voltage freight locomotive for Russian Railways under an agreement signed at the 1520 Strategic Partnership's International Business Forum in Sochi on May 30.
To be designated 2ES20, the twin-section locomotive would be able to use both 3 kV DC and 25 kV AC power supplies, giving RZD the potential to eliminate time-consuming and inefficient locomotive changes at the boundary points between the different supply networks. Alstom and TMH claim that the 2ES20 would be Russia's first dual-voltage freight locomotive.
Engineering design of the locomotive and its principal components will be undertaken by TRTrans, the Alstom-TMH joint venture which has already designed the EP20 passenger and 2ES5 freight locomotives. Asynchronous drives and other traction components would be produced by Alstom-TMH's RailComp partnership, which is based at TMH's NEVZ locomotive plant in Novocherkassk in southern Russia, where the locomotives would be assembled.
Testing of a prototype locomotive is expected by March 2014, with the first deliveries to RZD scheduled for December of the same year. However, no firm order for a series build has yet been placed.