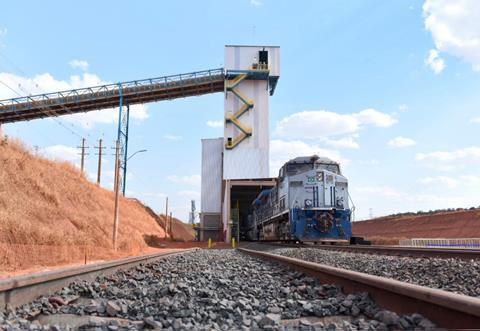 BRAZIL: National land transport agency ANTT has launched the process to relet the Malha Oeste operating concession, which is currently held by Rumo Logística.
Public consultations are to be held on proposals for the future concession to operate the 1 625 route-km network of 1 000 mm gauge lines from early 2024, ANTT announced on April 3.
Serving the states of Mato Grosso do Sul and São Paulo, the network stretches from Corumbá on the border with Bolivia to Campo Grande, Três Lagoas and Mairinque to the west of the São Paulo conurbation. However, the package excludes the 303∙5 km line from Campo Grande to Maracaju and Ponte Porã on the border with Paraguay which has been out of use since June 1996.
Traffic on the network is expected to include grain, minerals and cellulose with forecasts suggesting that freight volumes could be substantially higher than in the past.
ANTT is seeking information and proposals in preparation for the publication of a formal tender notice which is expected to provide for a 40-year concession. Interested parties are invited to submit contributions between April 10 and May 25. There will be a public hearing in Campo Grande on April 26, followed by a second hearing in Brasilia on May 3, which will also be held partly online.
Rumo Malha Oeste had submitted a request in July 2020 for the concession to be relet, effectively handing it back to the state; details of the request were published by ANTT in October that year. The agency then commissioned Corporación Andina de Fomento to confirm the viability of reletting the concession, and the study results were presented to ANTT President Rafael Vitale in Brasilia on March 16.
ANTT notes that 'the infrastructure, including its permanent way, is depreciated. For years, the current concessionaire made investments at insufficient levels for its maintenance. Underinvestment led to a loss of transport capacity. Currently, trains travel at speeds below their potential and the volume of cargo transported is limited.'
ANTT suggests that 'the new tender for the Malha Oeste concession is the opportunity for a new concessionaire … to carry out investments for the modernisation and expansion of the railroad.' An investment programme costed at R$18bn over 60 years has been proposed. This would be targeted at improvements to track, signalling and telecommunications, marshalling yards, workshops, motive power and rolling stock. Bridge construction is also envisaged to reduce conflict with road traffic at level crossings.
Among proposals that ANTT is understood to have discussed with the federal government is a suggestion to convert the Malha Oeste from 1 000 mm to 1 600 mm gauge.