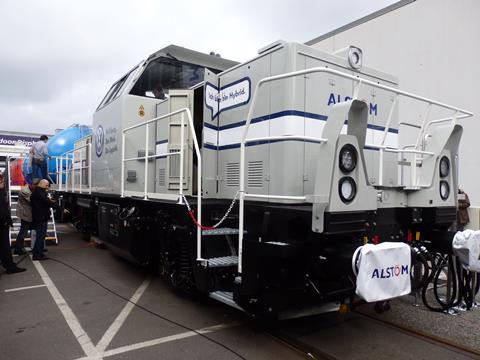 GERMANY: On February 4 Alstom announced a contract to supply automotive manufacturer Audi with two Type H3 battery-diesel hybrid shunting locomotives for use at its Ingolstadt factory. Deliveries are scheduled for the end of 2015 and the end of 2016.
DB and Volkswagen have previously ordered similar locomotives. The H3 has a Stage IIIB compliant 350 kW diesel engine, but is expected to spend between 50% and 75% of its service time in battery mode. Alstom said the H3 consumes up to 50% less fuel than conventional shunting locomotives, is quieter and cuts emissions by up to 70%. The H3 has a maximum speed of 100 km/h, making it suitable for mainline use.
'Whereas the old traction vehicles consume over 20 litres of fuel per hour, the generator of the hybrid locomotive, which is needed only to charge the battery block, requires a maximum of 9 litres/hour', explained Johann Schmid, Operations Manager for Audi's Ingolstadt railway.