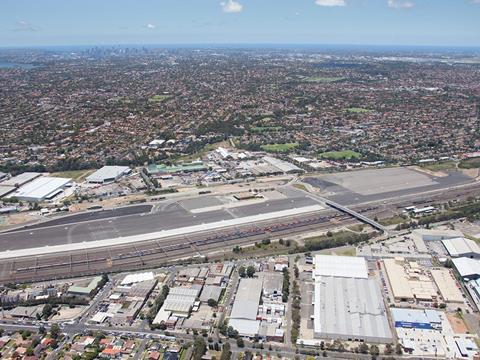 AUSTRALIA: On August 30 Aurizon announced it had begun operating a freight shuttle from the Port of Botany to the Enfield Intermodal facility in western Sydney, which it leases from NSW Ports under a 10-year deal. Aurizon expects the initial service, which operates six times a week, to increase 'over the medium term' to accommodate growing demand.
The 60 ha Enfield site is 18 km from Port Botany and close to the M4 and M5 motorways. Aurizon says each shuttle train removes up to 45 lorry movements from the roads.
'The Enfield Intermodal Terminal is ideally positioned in Sydney's inner west with direct and dedicated rail freight corridor to Port Botany', said Executive Vice-President Customer & Strategy, Mauro Neves. 'Building volume and scale with high-quality customers is integral to Aurizon Intermodal's success in a very competitive market.'
NSW Ports CEO Marika Calfas said intermodal facilities such as Enfield would 'become a vital part of the future port supply chain for New South Wales, becoming inland extensions to Port Botany'. She said NSW Ports 'has set a target to move three million TEU per year by rail by 2045 to meet the state's growing trade needs into the future'.