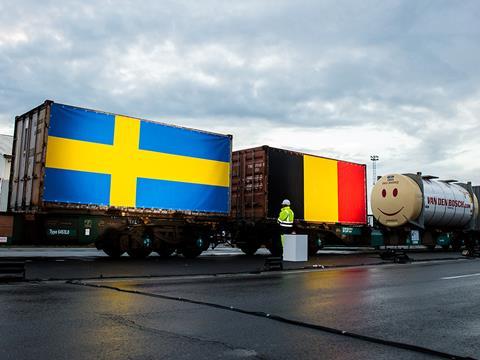 EUROPE: Belgian freight operator B Logistics has launched its eighth Green Xpress 'high quality' freight service, which is the first it has developed in response to demand from the intermodal market.
The Sweden Xpress services depart from Antwerpen and Malmö on Tuesdays, Thursdays and Saturdays, with a yard–to-yard journey time of 21 h each way. This provides 'a fast alternative to boat and a contender for truck volumes', according Jan Kilström, CEO of Green Cargo which handles the last mile operations in Sweden.
Connections to Denmark and Norway are planned. A regular feeder train will also run from the Port of Gent to meet demand from shippers and support the port operator's aim to increase rail's modal share from 10% to 15%.
Green Xpress wagonload services run to a fixed timetable, with limited shunting during the journey. A single locomotive is used throughout where possible and real-time tracking is provided. B Logistics says the network offers an average punctuality of more than 95% which is 'unrivalled in the marketplace'.
The services offer 'short transit times, high reliability and transparency', provide 'a genuinely competitive offering', according to COO Sam Bruynseels. 'We are seeing customers explicitly opting for the Xpress products, whereas they used to opt for road transport. We are continuing to expand the network, and will also be improving the quality of the first and last mile in Belgium.'