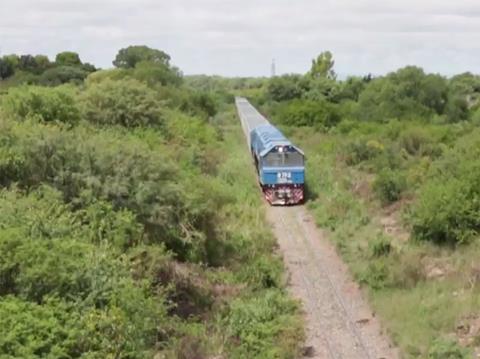 ARGENTINA: The first two diesel locomotives supplied by CRRC of China successfully completed their first day of testing on the 1 000 mm gauge Belgrano network on February 22, the Ministry of Transport has announced.
State-owned freight operator Trenes Argentinos Cargas undertook testing between San José and Dean Funes in Córdoba province. To measure their tractive effort, the locos hauled a train of 21 wagons loaded with concrete sleepers weighing a total of 1 300 tonnes.
Delivered to the Port of Buenos Aires on February 8, the first Belgrano units form part of an order for 107 locos that are being supplied to Trenes Argentinos Cargas, financed by a US$2∙47bn loan from CMEC that is also funding new wagons and infrastructure materials.
'Combined with the track work that we are already carrying out, this new rolling stock will enable us to continue to increase freight traffic, reduce costs and create more jobs', said Transport Minister Guillermo Dietrich. Describing new rolling stock as 'key to the transformation of the Argentinian rail network', Trenes Argentinos Cargas President Ezequiel Lemos noted that the new locomotives would complement a fleet dating back to the replacement of steam traction.