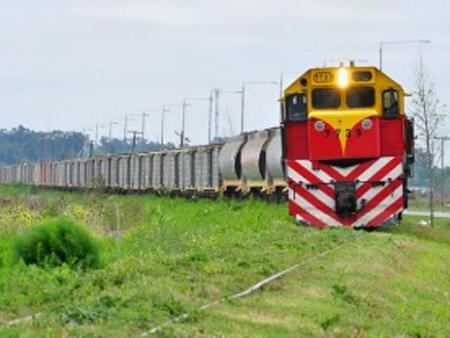 ARGENTINA: By means of a decree published on July 20, the federal government has ratified a series of amendments to the contract signed by the previous administration with China Machinery Engineering Corp. The amendments set out the rolling stock and infrastructure materials to be acquired for upgrading projects, principally to revive freight traffic on the 1 000 mm gauge Belgrano network.
A total of 107 diesel locomotives are now to be acquired, worth US$230∙9m including spare parts. As well as 30 1 000 mm gauge units worth US$60∙6m, CMEC is to supply 67 1 676 mm gauge locomotives for US$135∙3m and 10 for the 1 435 mm gauge network for US$20∙2m.
At a cost of US$653∙7m, a total of 3 509 wagons are to be acquired, including spine wagons, open wagons and hoppers for the transport of grain, minerals and ballast (below). Other acquisitions include heavy plant (US$31∙8m), equipment for undertaking heavy maintenance (US$32∙4m) and workshop tools (US$21∙6m).
Infrastructure materials to be supplied at a total cost of US$427·4m comprise 164 699 tonnes of rail (US$184·5m), 669 598 sleepers for 1 676 mm gauge (US$69·6m) and 1 625 448 for 1 000 mm (US$126·8m), and 2 326 940 sets of rail fastenings. A total of 1 370 km of the Belgrano network is to be upgraded, as well as 141 km of the 1 676 mm gauge San Martín network.
No of wagons to be supplied

Type
Gauge, mm
Total cost, US$m
1 676
1 435
1 000
Spine
200
100
100
46
Flat
130
79
100
31 5
Coal
200
–
–
21 9
High-sided
–
100
100
21 9
Grain hopper
650
150
500
153 8
Mineral hopper
750
–
–
89 1
Ballast hopper
–
150
200
41 1