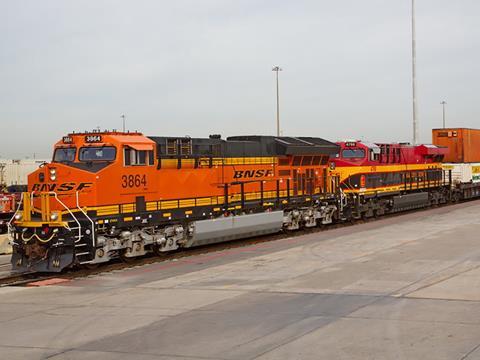 NORTH AMERICA: An intermodal freight service connecting locations on BNSF's network including Chicago and Dallas/Fort Worth with Mexican destinations served by Kansas City Southern de México is to be launched on December 1.
Shipments are to travel in bond, clearing customs at the Mexican origin or destination, and there would be a 'multi-layered' safety and security process including the use of inspection portals and providing customers with access to 24/7 shipment tracking. Trains will run five days a week, offering transit times competitive with road transport.
Northbound services will operate from Toluca, San Luis Potosí or Monterrey in Mexico to Dallas/Fort Worth or Chicago in the USA. Southbound services will run from Chicago or Dallas/Fort Worth to Laredo in Texas or to Monterrey, San Luis Potosí or Toluca in Mexico.
'We are excited to be partnering with KCS to offer our customers a new, efficient and reliable way to access some of Mexico's largest metropolitan markets', said Katie Farmer, Group Vice-President, BNSF Consumer Products. 'These new services leverage our strong intermodal product and KCS' expertise south of the border to enhance customers' supply chain efficiency.'