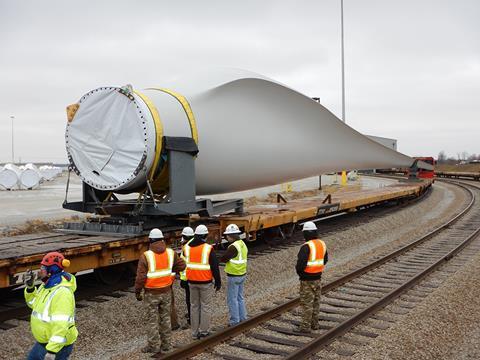 USA: BNSF Logistics has acquired Transportation Technology Services, a Texas-based company which provides engineering and logistics services for the transport of over-sized loads by rail with a particular focus on wind turbine components.
TTS manages a fleet of almost 2 000 wagons for various customers, with 1 200 having patented fixtures to handle wind turbine components including blades, tower sections and nacelles.
BNSFL said TTS would become its US Rail, Project Cargo & Engineering Services division, and complement its own development of Blade Runner technology to handle turbine blades.
'TTS's engineering and design capabilities, extensive wind fixtures and rail transload locations coupled with their talent and market expertise in industrial products are a perfect fit for our broader expansion into the industrial products sector that handles freight of all sizes', said BNSFL President Ray Greer on July 14.
The terms of the acquisition were not disclosed.