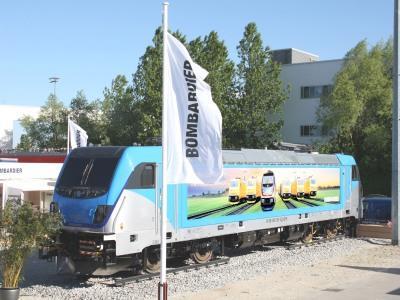 GERMANY: Bombardier Transportation unveiled the latest addition to its Traxx modular locomotive family at the Transport Logistic trade fair in München on May 10. Known as the 'Last Mile Diesel', it is a Traxx AC electric locomotive with a supplementary diesel engine.
The design is intended to avoid the need to change locomotives when delivering freight to unelectrified sidings, or for moving single-system electric locos around yards where there is a changeover to a different electrification system.
Bombardier believes the Last Mile Diesel concept will 'enable the seamless transport of goods by rail'. Ake Wennberg, President of the Locomotives & Equipment Division, said it 'offers real innovation, giving rise to whole new possibilities in rail freight transportation'.
European leasing group Railpool ordered the first five locomotives at the end of last year. 'The market has been waiting for this opportunity', said Railpool Managing Director Dr Walter Breinl.
According to Bombardier, the development of the Last Mile Diesel was 'based on the positive experiences' from building the ALP 45 Dual Power locomotives being supplied to New Jersey Transit and AMT in Montréal. Following the launch of the Traxx AC with Last Mile Diesel, the company is planning to develop a Traxx DC version as well.
Several railways have operated electric locomotives with supplementary diesel engines for low-speed operation over the past 50 years. These included British Rail's Class 73 and 74 electro-diesels in the early 1960s, for 750 V DC operation; many of the Class 73s remain in traffic today. South Africa's Transnet Freight Rail has a fleet of 50 Class 38 electro-diesel locomotives for 3 kV DC operation which entered service in 1992-94.