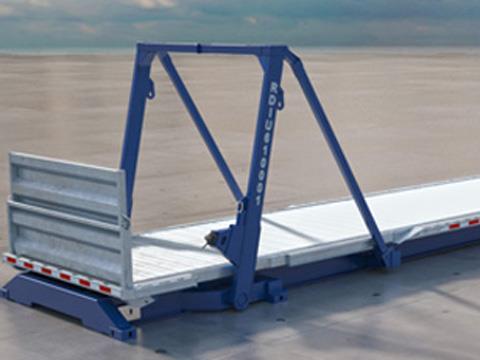 CANADA: Raildecks has developed a 53 ft collapsible open-framed container which enables beams, pipes and other industrial products which would normally travel on lorries or flat wagons to be moved on double-stack intermodal trains.
The containers can be collapsed and stacked four high in the same space as a high cube box container, reducing the costs of empty backhaul.
The design has undergone trials with Canadian Pacific, UP, BNSF, Norfolk Southern and at TTC in Pueblo. Raildecks is now 'looking for the right partners in Europe and Asia' with a view to learning more about the 'specific needs of those markets', according to CEO Rick Jocson.
'By converting a traditional over-the-road commodity to rail, Raildecks are reducing greenhouse gas emissions, freeing up major roads and highways, and reducing costs for shippers', he said.