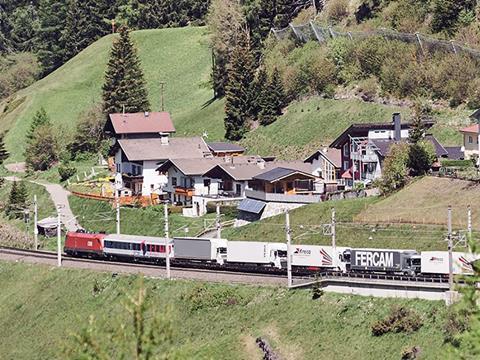 AUSTRIA: Rolling motorway services are to be massively expanded in a bid to switch more traffic from road to rail on the Brenner corridor.
Under plans agreed at a high-level meeting of officials in Innsbruck on August 9, operator ÖBB will step up the number of rolling motorway trains to increase capacity on the transalpine route from 200 000 lorries a year at the moment to around 450 000 by 2021.
From January 1 2020 the number of daily rolling motorway services on the Wörgl – Brennersee route will rise from 18 to 21, with three more added by January 2021. Services will also be stepped up on the Wörgl – Trento route, with the current three trains a day each way rising to 10 in each direction by January 1 2021.
January 2020 will also see the launch of a daily Regensburg – Trento service, which will be increased to five trains a day each way by January 2021.
Increasing the number of rolling motorway trains is one element of a 10-point plan to reduce the environmental impact of lorry traffic on the Brenner transit route through Austria which was agreed by the transport ministers of Germany and Austria and the Governor of Tirol Günther Platter at a summit in Berlin at the end of July.
Among the measures are enhancements to rail terminals in München-Riem and Regensburg, accelerated installation of ETCS on the Brenner route, and technical co-operation to develop an automated and 'intelligent' system to control the flow of lorries transiting via the Brenner motorway.
Political measures include seeking further support for intermodal and rolling motorway traffic from the European Commission and reworking of European directives, while Germany and the Land of Bayern have agreed to try and accelerate the planning process for improvements needed for access routes to the Brenner base tunnel, which is not expected to open before 2027 or 2028.