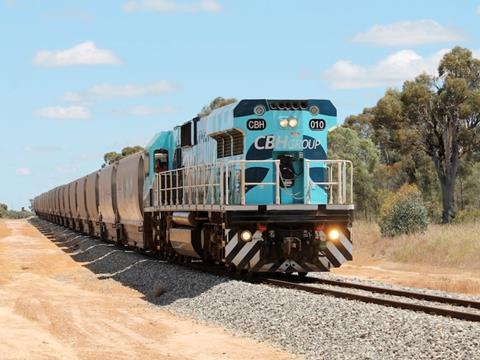 AUSTRALIA: Infrastructure manager Brookfield Rail has signed a new track access agreement with Western Australia's grain handling company CBH Group covering grain train operations in 2016. The contract will replace the current interim agreement which is due to expire at the end of this year, midway through the main shipping season.
Brookfield Rail CEO Paul Larsen said he was very pleased with the agreement, which would 'provide certainty and clarity for the farmers until the end of next year'.
The one-year agreement will provide access for CBH Group trains, which are operated under contract by Watco, to use all Tier 1 and Tier 2 lines on the state-owned network, which is managed by Brookfield Rail under a 49-year agreement.
According to CBH Group General Manager of Operations David Capper, the revised agreement will also include access to the Toodyay – Miling line, which was to have been withdrawn, although rates on this route are likely to be subject to a surcharge.
However, the deal does not include access to a number of the lightly-used Tier 3 lines, which have been mothballed since mid-2014 after the state government withdrew its financial support for their maintenance. According to Larsen, 'substantial capital' must be invested in those lines 'to make them safe'. He says Brookfield Rail would be 'willing to co-invest along with others' if a long-term agreement can be reached.
Brookfield Rail and CBH Group have been negotiating for several months over a long-term access agreement to replace the previous deal which expired in April. However, the infrastructure manager is looking for a substantial reform of the access charge regime to reflect the ending of state support for grain movements. The negotiations have now been referred to arbitration at the state's Economic Regulatory Authority. Larsen said access to the Tier 3 lines was one of a 'range of issues' that need to be worked through as part of the arbitration process, which is expected to start shortly.
Read more about Brookfield Rail in our exclusive interview with Paul Larsen in the November 2015 issue of Railway Gazette International.