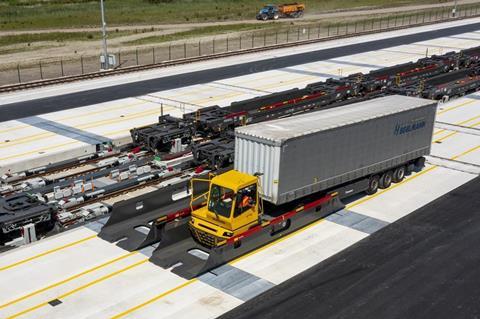 EUROPE: CargoBeamer has formed a partnership with Eurotunnel enabling unaccompanied lorry semi-trailers arriving at its rail-road transfer terminal in Calais to be transported on Shuttle trains through the Channel Tunnel and then onwards to Ashford in southeast England.
The companies said this would partially resolve the current shortage of lorry drivers, as well as encouraging modal shift, cutting emissions and relieving motorway congestion.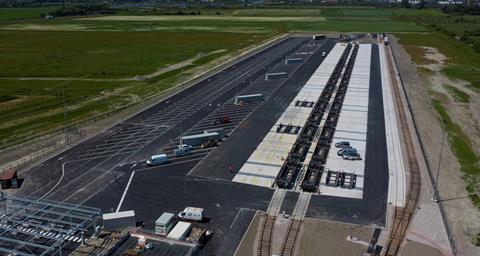 The first route is seen as an extension of the CargoBeamer service from Perpignan to Calais which was launched earlier this year. Eurotunnel's parent company Getlink said a link to Ashford was 'a logical step' in developing an intermodal network between the Channel and the Mediterranean.
A CargoBeamer service from Domodossola in northern Italy to Calais is to be launched in early October, and this will also include an option for onward transport to Ashford.
Eurotunnel told Railway Gazette International the aim was to build up to operating whole trains through the tunnel as the market develops, and ultimately to run trains to destinations further inland.
Complementary expertise
The companies said they were bringing complementary expertise to the initiative.
Getlink has an understanding of borders, and its Europorte subsidiary has experience of rolling stock maintenance. Eurotunnel began carrying unaccompanied lorry trailers between its Calais and Folkestone terminals on September 18, building on its long-established drive-on drive-off operation.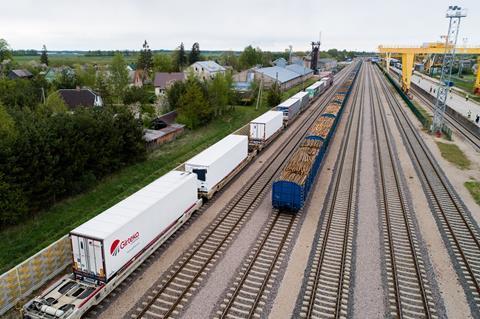 Leipzig-based CargoBeamer provides wagons, transhipment terminals and logistics software that enable around 80% of standard lorry semi-trailers to be transported by rail without modification. Its first route between Kaldenkirchen near the German/Dutch border and Domodossola was launched in 2015, and this year the company launched three weekly round trips between Duisburg in Germany and Poznań in Poland as well as four trains each way per week between Calais and Perpignan.
'We value the co-operation between Eurotunnel and CargoBeamer as another crucial step in developing new relations around our recently-opened terminal in Calais', said CargoBeamer Chief Business Development Officer Nicolas Albrecht on September 20. 'Connecting Europe and the UK by environmentally friendly rail is highly important to achieve our mission of reducing the carbon footprint of the logistics industry.'