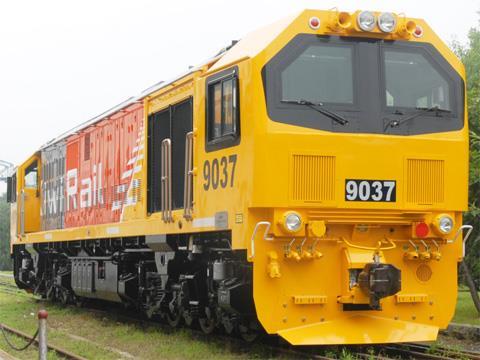 NEW ZEALAND: KiwiRail has had a 'challenging' and 'frustrating' financial year, the national railway announced on August 29, adding that it is 'cautious about the outlook for 2015', particularly in the commodities sector.
KiwiRail warned that it 'cannot rely on revenue growth alone to get us to a sustainable position'. Improving its financial performance will require 'a more cost-effective and efficient business model', and so the company is to focus on asset and labour productivity, efficiency, and on-time performance.
It has begun an internal 'back to basics' review of the business, including revisiting assumptions in the turnaround plan which was launched in 2011. This review will take into account a government study published in March this year which predicted average increases in freight tonnage of 2% per year to 2042, with the use of larger ships changing freight flows.
KiwiRail was hit by two high-profile problems during the year to June 30. The loss of a propeller on inter-island train ferry Aratere required another ship to be chartered. This was followed by the discovery of components containing asbestos in 40 new DL Class locomotives, comprising 20% of the locomotive fleet; KiwiRail reports it is making 'good progress' with removal.
Overall operating revenue was down 0·5% at NZ$724m. Freight revenue was steady at NZ$460m, 64% of the total revenue, with a 6% growth in domestic revenue offsetting a 5% decline in bulk (particularly milk and coal) receipts and a 2% decline in import/export.
Passenger rail accounted for 7% of revenue. Ridership and punctuality on the Tranz Metro passenger business in Wellington improved, with farebox revenue up 7%, while the profitability of the Scenic Journeys long-distance business improved with ridership up 5% and costs 'controlled'.
However the impact of the ferry and locomotive problems, plus greater maintenance and capital expenditure, wage increases and the cost of seismic works, meant the overall operating surplus fell by 28% from the previous year to NZ$77·5m. The overall post-tax loss was NZ$248m, compared to NZ$175m in the year to June 30 2013.