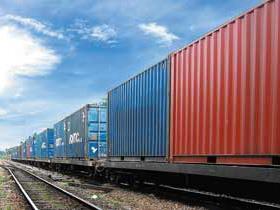 INTERNATIONAL: A memorandum of understanding to form a strategic partnership to develop rail forwarding services between China and Europe has been signed by DHL Global Forwarding and the project office which is setting up the United Transport & Logistics Co joint venture of the national railways of Russia, Kazakhstan and Belarus.
Once it is established, UTLC will transport containers between Europe and China, with DHL responsible for third-party logistics and cargo origination at each end. Regular services are planned with a delivery time of three weeks door to door.
DHL Global Forwarding currently has a daily service along the northern Trans-Siberian North corridor to Europe, and a slightly faster weekly service along China's West corridor which was launched last year and runs from Chengdu to ?ód? in Poland. This uses temperature-controlled containers for sensitive products which previously could not be carried owing to the faster route's harsh winters and hot summers.
'The potential for rail freight growth between Asia and Europe is huge but to grow it successfully requires high-level strategic partnerships', said Steve Huang, CEO of DHL Global Forwarding China. 'Our partnership leverages both groups' strengths to accelerate the development of rail forwarding services on the China - Europe - China route … for our customers, it will mean a one-stop, one-price service.'