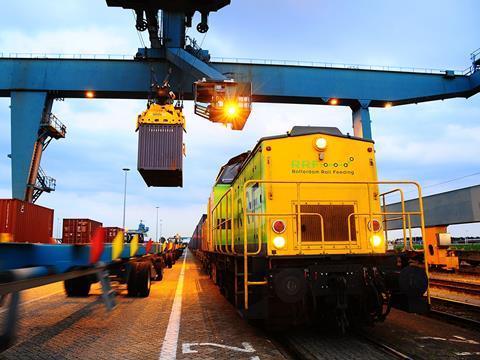 NETHERLANDS: The first train carrying containers from China arrived at the Rail Service Centre freight terminal in the Port of Rotterdam on July 23, having left Kunming on July 5. Further services are planned to arrive during August and September.
The 80 containers were routed via the Zabaykalsk border crossing between China and Russia, and transferred from 1 520 mm gauge to 1 435 mm gauge wagons at Małaszewicze on the Belarus/Poland border
The European leg of the journey was handled by PKP Cargo's freight forwarding business, with Rotterdam Rail Feeding providing last mile services.
The Port of Rotterdam said the arrival of the first train from China was a significant step in the development of the city as a European multi-modal logistics hub, and ongoing investment meant there would be the potential from freight to continue to the UK.