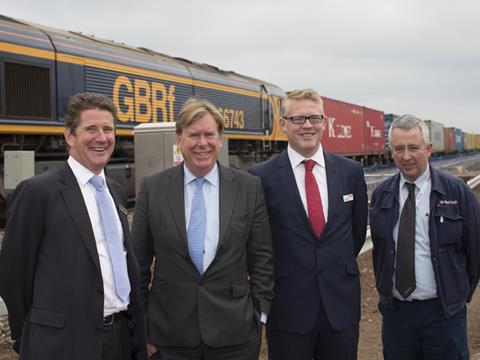 UK: On November 14 Transport Minister Simon Burns officially opened the Nuneaton North Chord, a 1·4 km link designed to remove conflicts between freight and inter-city trains on a key section of the West Coast Main Line.
Intermodal trains from the port of Felixstowe previously had to cross the WCML fast lines at Nuneaton. The trains now cross over all four tracks of the WCML on an existing bridge, before using the new chord to drop down on the west side of the WCML to join the Down Slow Line.
The chord was built by Atkins and Balfour Beatty, with the £28·3m cost being co-financed by Network Rail, the Department for Transport and the European Union's TEN-T programme.
'The Nuneaton North Chord is an important strategic investment to support the UK economy as well as the rail freight industry', said Alain Thauvette, Chief Executive of DB Schenker Rail (UK) Ltd. 'Intermodal traffic is the fastest growing rail freight sector and the opening of the Nuneaton North Chord will allow the rail freight industry to offer its customers the flexible and reliable services needed to facilitate continued growth.'
Meanwhile, the government has approved the planned North Doncaster Chord. This will link the line from Immingham to the route to Knottingley by means of a bridge over the East Coast Main Line, meaning that slow-moving bulk freight trains will no longer have to use the ECML for 14 km.
The North Doncaster Chord is to be built by Morgan Sindall for £45m, with opening planned for early 2014. It forms part of a £600m package of projects to boost ECML capacity, including an upgrade for freight of the Joint Line linking Peterborough and Doncaster via Lincoln.