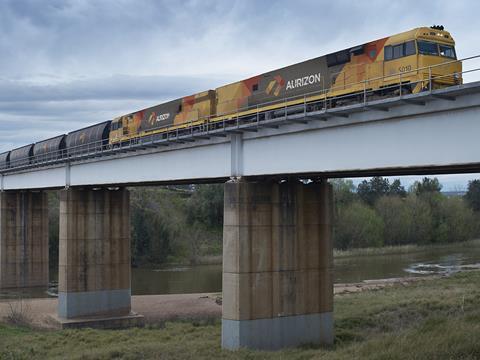 AUSTRALIA: The Australian Competition & Consumer Commission has released a 'statement of issues' inviting comments on Aurizon and Pacific National's rival proposals to buy Glencore Coal's rail haulage business. ACCC says it will assess the proposals against the alternative scenario of a new operator entering the market.
Coal producer Glencore is seeking to divest its GRail business, which handles most of the company's output using its own fleet of 30 locomotives and 894 wagons. These are operated by Genesee & Wyoming subsidiary Freightliner Australia Coal Haulage under a framework agreement which runs to the end of 2020.
On October 6 ACCC Chairman Rod Sims said the sale of both rolling stock and a long-term haulage contract offered third parties 'a platform for entry' to the Hunter Valley market 'that is unlikely to be replicated in the foreseeable future'.
Pacific National currently hauls the majority of the coal in the Hunter Valley, with Aurizon hauling the second largest volume. 'Aurizon and Pacific National were both sponsored into each other's coal haulage markets in Queensland and New South Wales and there has been little or no new entry before or since', said Sims. 'There are some examples of coal producers acquiring their own rolling stock, but Glencore Coal is the only Hunter Valley coal producer to have done so for a majority of its coal haulage requirements.'
The Hunter Valley coal market 'appears to have high barriers to entry, so we would expect the addition of a third competitor to have a significant effect upon the market', said Sims. 'In contrast, an acquisition by Aurizon or Pacific National would essentially be a continuation of the status quo where there are two active players'.
However, ACCC also believes that coal producers are 'well-resourced, sophisticated parties' that may be able to protect their own interests against the two operators, and could acquire their own rolling stock or sponsor a new entrant.
ACCC's provisionally expects to make a final decision on the sale on December 15.