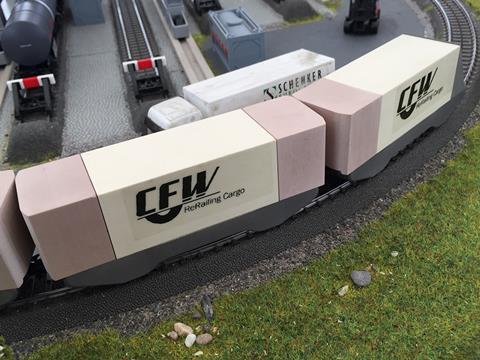 EUROPE: Wagon leasing company Ermewa is to draw up a deployment concept for innovative wagons to support the business case for investment in vehicles which are being developed under the Competitive Freight Wagon research initiative.
Backed by the EU Shift2Rail research programme, the Competitive Freight Wagon consortium includes technology company Scheidt & Bachmann System Technik, consultancies ConTraffic and TransCare, Spain's CEIT research alliance and the DLR and TU Dresden research institutes in Germany.
Ermewa is to develop specifications for the bogies and running gear, superstructure, electrical equipment and onboard intelligent systems, as well as a supply chain structure for construction of the new wagons.
The Competitive Freight Wagon concept is based on block trains of wagons with a multi-material lightweight design providing significantly lower tare weight and higher payload than current designs, with improved aerodynamics to lower noise and energy consumption. Electropneumatic disc brakes would allow higher running speeds, facilitating mixed traffic operation using available daytime train paths between passenger services.
The modular wagons would have exchangeable bodies for different types of cargo, enabling them to be used more intensively than conventional vehicles. It is hoped that this would compensate for their higher initial cost.
Centre couplers would provide better longitudinal train dynamics and weight reduction, with a fully automated version offering simpler, faster and safer train reformation in an effort to make wagonload traffic more economically viable.
Onboard power supplies would support refrigerated goods and telematics services for continuous monitoring of the wagons, their loads and train integrity.
The Competitive Freight Wagon concept was described in the June 2017 issue of Railway Gazette International magazine, which subscribers can access in the digital archive.