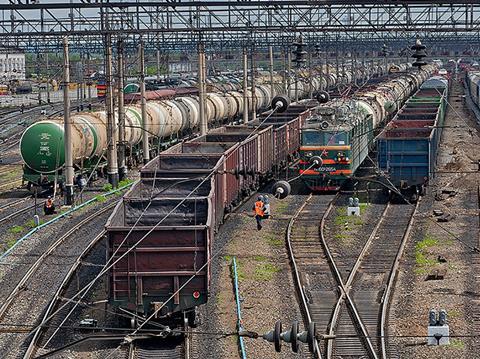 ASIA: Freight trains between China and Russia have started operating over the Primorye-1 corridor in the Far East, following the completion of an infrastructure upgrading programme.
Using a former China Eastern Railway alignment, the Primorye-1 corridor connects Harbin and Heilongjiang province with Russia's Far East ports, providing direct access for freight from northeast China to the Pacific.
Under the Promorye-1 infrastructure modernisation project, the 29 km 1 520 mm gauge route between the border stations at Grodekovo in Russia and Suifenhe in China was reopened on June 7. New break-of-gauge transhipment facilities have been established at Suifenhe, 6 km from the border. From Grodekovo, the corridor runs to Ussuriysk on the Trans-Siberian Railway, with an eastern chord at Amurskiy Zaliv leading to Nakhodka and the port of Vostochny.
An initial train on September 30 transported 62 containers of timber from Heilongjiang to Vostochny for onward transport by ship to the Chinese ports of Shanghai and Huangpu. The two railways anticipate that two container trains per week will be operating over the corridor by the end of this year.
According to RZD President Oleg Belozerov, Primorye-1 is the most important international transport corridor in the Russian Far East. However, upgrading work is also underway on the Promorye-2 route linking Hunchun with the ports of Posyet and Zarubino. This runs further south, close to the border with North Korea.