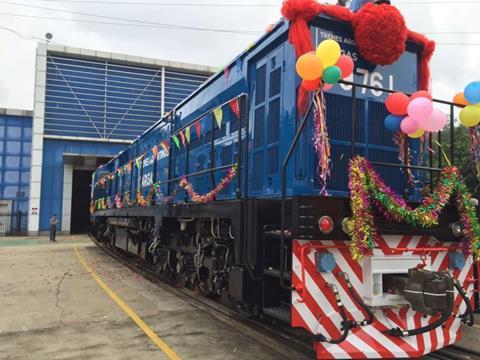 ARGENTINA: The first of 20 diesel freight locomotives being built for the 1 000 mm gauge Belgrano network has been rolled out by Chinese rolling stock manufacturer CRRC at its Ziyang plant, in the presence of Ezequiel Lemos, President of state-owned freight operator Trenes Argentinos Cargas.
Particularly tailored to operating requirements in Argentina, according to CRRC Vice-President Yu Weiping, the locomotive is powered by a 3 000 hp MTU engine. Knorr-Bremse has supplied braking equipment and the air-conditioned cab features a fault diagnosis system.
The Belgrano units form part of the 107 diesel locomotives being supplied to Argentina by China at cost of US$230⋅9m, together with 3 509 wagons worth US$653⋅7m.