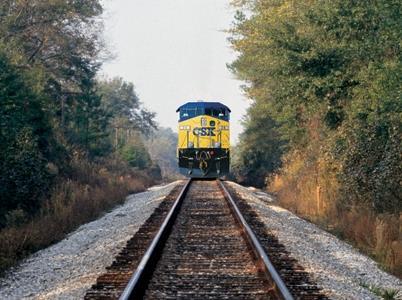 USA: CSX has announced measures to match its 'structural resources' with an ongoing decline in coal traffic volumes and predicted future shifts in demand. Coal revenues have declined by $1·4bn over the past four years, and Chief Financial Officer Frank Lonegro told the Barclays Industrial Select Conference in Miami on February 17 that CSX is expecting a 20% year-on-year fall in coal volumes this year.
'As we look toward a future with significantly less coal, our strategy includes rationalising and realigning the network to match decreased demand in some markets and adjust to increases in others', said Lonegro. This includes 'investing in clearance and terminal projects to leverage intermodal growth, and optimising technology to serve the CSX of tomorrow as we continue to target a mid-60s operating ratio longer term'.
In the short term, the strength of the dollar and low global commodity prices are expected to have an impact on business. 'Based on the trends so far this year, we expect volume to decline in the mid-high single digits this quarter and to gradually moderate as we move through the year', Lonegro said.
CSX plans to make $200m in productivity savings this year. On February 12 it announced a 'streamlining' of operations at 16 workshops, which followed the announcement in January that it would reduce its administrative divisions from 10 divisions to nine with the closure of offices at Huntington in West Virginia's Central Appalachian coal fields.
CSX's merchandise and intermodal business has grown faster than the economy over the past five years, with 'strong pricing and efficiency gains'. In January the railway announced plans to develop an intermodal logistics hub in Johnston County, North Carolina. CSX envisages it would provide $150m of the $272m cost of the Carolina Connector facility, with $100m to come from the state's Strategic Transportation Investment programme and the balance from other programmes.