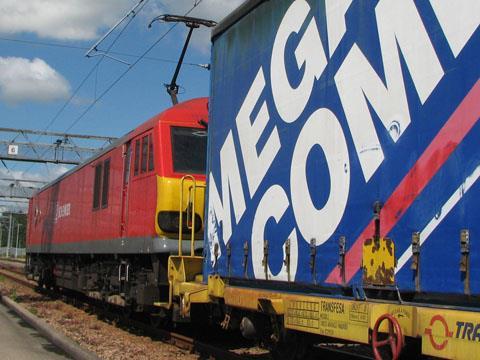 EUROPE: DB Schenker Rail is to add a second weekly train between Barking and Wroclaw in September, and it hopes to expand the operation to a daily service by the end of 2013, according to CEO Dr Alexander Hedderich.
Speaking at a reception at the Polish embassy in London on February 9, he confirmed that the weekly train which began running on November 11 had been a great success. Offering a 60 h journey time, the train is the first regular service to bring UIC-gauge wagons to the London area via High Speed 1, carrying a mix of traffic in 9 ft 6 in high swap bodies and containers.
Punctuality during the first three months is reported to have been good, and Hedderich said this practical demonstration of service quality was helping to attract business. Trains are typically running 100% loaded from Poland, and about 70% on the return. Current traffic includes automotive components for Hyundai and Cadbury's chocolate for Kraft Foods.
Region West CEO Alain Thauvette confirmed that DB Schencker Rail is looking at possible options for serving other terminals in the UK, which could be more convenient for customers north of the capital.